Desserts
Cheesecake 3.65 – 4.55
Plain or with strawberries. Our homemade cheesecake is always creamy, smooth and delicious.
Lemon Italian Cream Cake 4.95
An italian cream cake layered to perfection, is sure to be a hit!
Tiramisu 4.50
Elegant and rich layered Italian classic
Chocolate Cake 4.50
Rich, moist cake topped with creamy chocolate frosting. Truly decadent.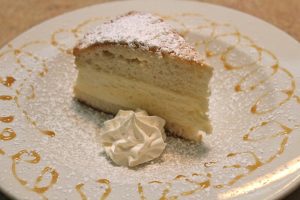 Baklava 2.99
Lava Cake 4.95
Brownie 3.15
Cannoli 3.45 – 3.95
Add a scoop of Vanilla Ice Cream to any dessert – $1.50
Ask your server if we have any other desserts available!
(Please note that prices are subject to change without notice.)