Desserts
Cheesecake 4.95
Plain or with strawberries. Our homemade cheesecake is always creamy, smooth and delicious.
Lemon Italian Cream Cake 5.95
An Italian cream cake layered to perfection. It's sure to be a hit!
Tiramisu 5.25
Elegant and rich layered Italian classic
Chocolate Cake 5.95
Rich, moist cake topped with creamy chocolate frosting. Truly decadent.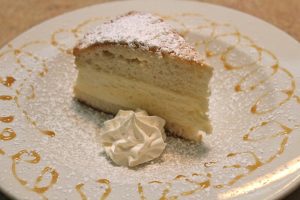 Baklava 3.25
Lava Cake 5.25
Brownie 3.95
Cannoli 4.75
Add a scoop of Vanilla Ice Cream to any dessert – $2.00
Ask your server if we have any other desserts available!
(Please note that prices are subject to change without notice.)